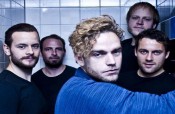 SKA NYE 16/17: RudolfPalooza – The Rudolfs
Scum is ook dit jaar weer het decor van RudolfPalooza, het absurde geesteskindje van de gekste band van Katwijk. Nadat vorig jaar piraten het podium betraden, is het nu tijd voor zombies, kettingzagen & shotguns in The Night of The Walking Dead Rudolfs. Als eerste zal de band Trabant jullie infecteren met het besmettelijke feestvirus. Daarna zullen The Rudolfs zelf het podium te betreden om de horde feestbeesten helemaal los te laten gaan. 
We kunnen Katwijk in twee periodes indelen. De prehistorische tijd voor The Rudolfs en de geweldige tijd erna. Al jaren overheersen de Rudolfs de rockscene in Katwijk en laten iedereen zien waar ze zo goed in zijn, heerlijke herrie maken.
Vorig jaar gaven de heren hun eigen Mega Piraten Festijn in de grote zaal van de Scum, maar dan ontiegelijk veel harder en oneindig veel vetter. Piraten, kapers, boekaniers en schavuiten plunderden de zaal en maakte het aanwezige bier en rum soldaat. Dit jaar gaat het over een andere boeg. Het is namelijk tijd voor The Night of the Walking Dead Rudolfs. Geen zwaarden, musketten en piraten dit jaar, maar kettingzagen, shotguns en zombies!
Al met al belooft dit dus weer een superavond te worden!
Nog wat voorpretvideo en een hilarisch interview met Vink hieronder.
https://www.youtube.com/watch?v=z7r7O1vTRR0