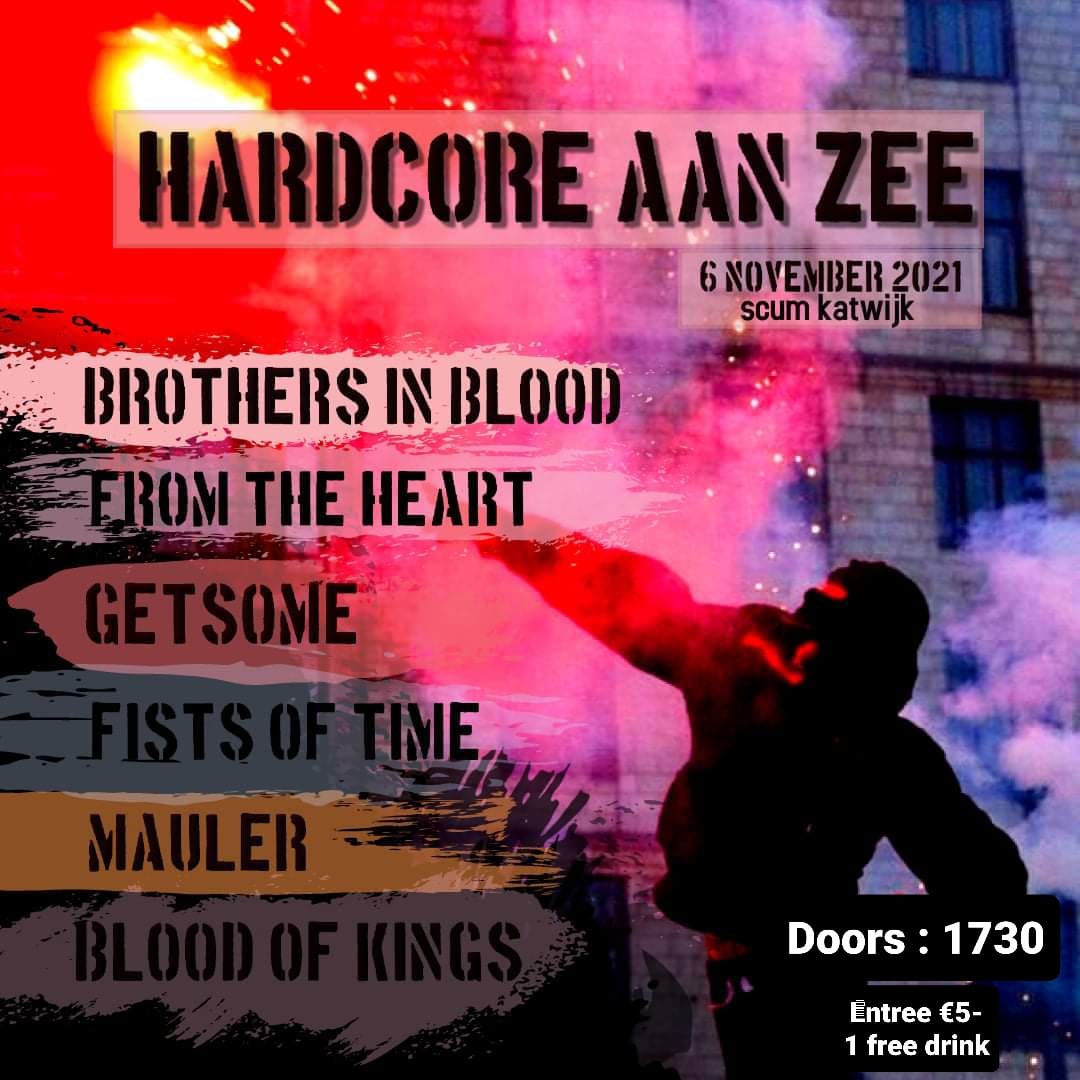 6 november: Hardcore aan Zee @ Scum
Met Brothers in Blood, Get Some!, From the Heart, Mauler, Fists of Time en Blood of Kings. Zaal open om 17:30. Blood of Kings zal om 18:00 aftrappen. 
BROTHERS IN BLOOD // The was formed back in 1998. Despite the several line-up changes since its formation, the band has been touring actively around Europe, sharing stages with Ignite, Biohazard, H2O, Bane, Merauder and many more.

GET SOME! // Angry hardcore grooves for all the filthy, freaky & frustrated brothers in blood. Founded in 2012 by members of known underground hardcore punk bands, Get Some! have released two EPs and currently are recording their next release!

FROM THE HEART //From the Heart is a Rotterdam based hardcore band delivering energetic live-shows with a positive attitude since 2012! Discography: Leave it all Behind (CD) 2015 (WTF Records)
Make it Last (CD) 2017 (WTF Records)

MAULER // New hardcore punk band 2021with the singer from Discipline.

FISTS OF TIME // Fists Of Time is a five-piece hardcore band based in Zeeland, the Netherlands. Since their establishment in 2015 the band has played over a hundred shows throughout Europe & Asia. They stand out because of their brutal yet groovy mix of hardcore & metal while sticking tight to their hip-hop roots. The full length album '5 year plan' was released on WTF Records early 2019!

BLOOD OF KINGS // Hardcore the way it is meant to be; Hard, fast and dirty.
Oldschool Hardcore combined with the best of Eurocore, Beatdown and 80's Crossover!
QRcode/testbewijs nodig bij de deur.
Entree €5,- met gratis consumptie aan de bar.
Er worden broodjes verkocht tussen 18:00-20:00
Voorpret?
Video's bands HIER