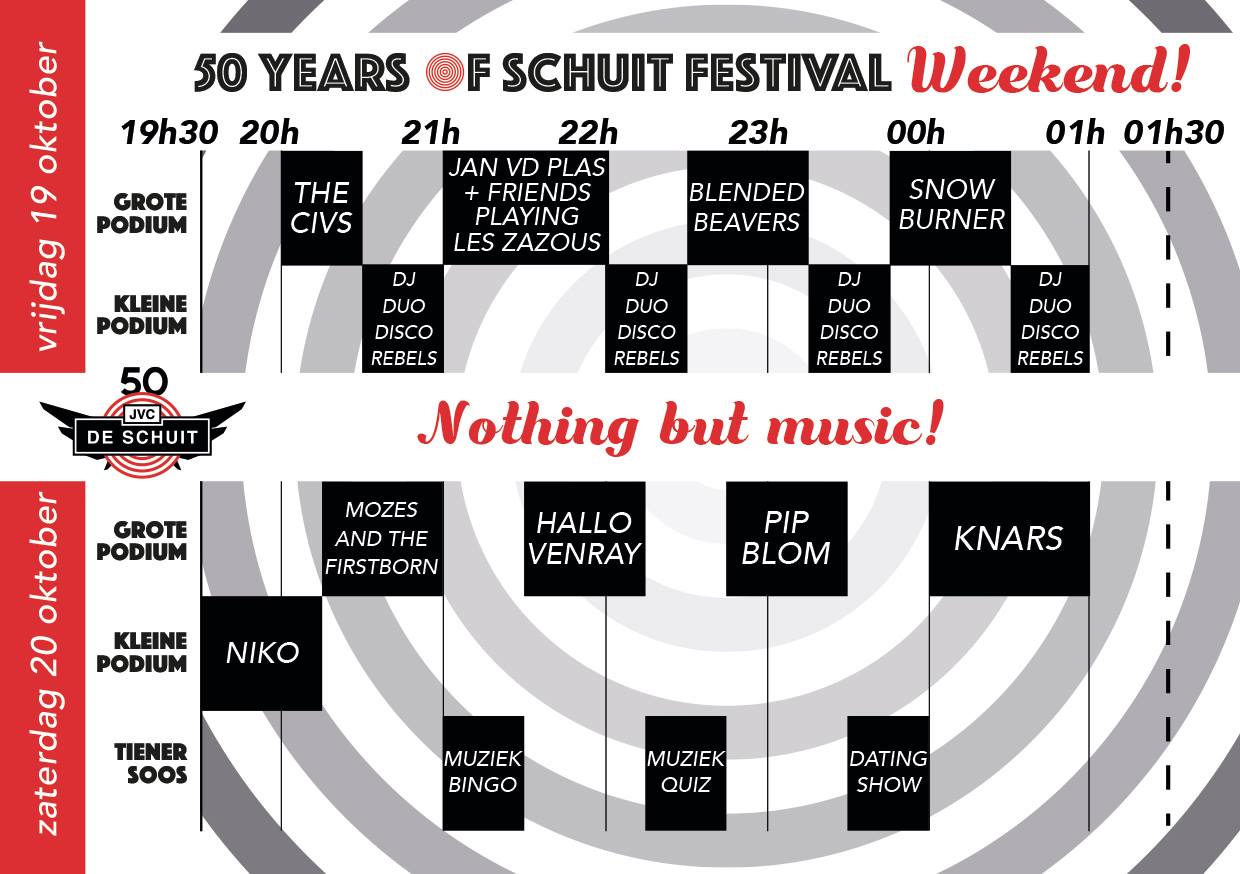 50 Years of Schuit Festival
Ter ere van ons 50-jarig jubileum organiseren we een heel tof 2-daags indoorfestival. Op vrijdag 19 oktober zetten we De Schuit in het zonnetje met oude én nieuwe lokale helden en op zaterdag 20 oktober met (grote) nationale artiesten. Tussen de optredens door hebben we de nodige activiteiten en DJ-sets.
Naast de debuutoptredens van The Civs en Blended Beavers hebben we op de eerste avond ook 2 vertrouwde lokale acts voor jullie geprogrammeerd.
Jan van der Plas keert terug voor een feest der herkenning met zijn Les Zazous liedjes. Afsluitende act Snowburner laat horen waarom zij de beste stonerband uit De Bollenstreek zijn.
Tijdens de tweede avond is er een mooie mix van jong en oud te horen.
Nieuwkomers Niko en Pip Blom staan aan het begin van een succesvolle muzikale carrière en geeft Hallo Venray al meer dan 30 jaar in binnen- en buitenland de tofste optredens. De garagerockers van Mozes and the Firstborn zijn na 5 jaar weer terug in Katwijk en als klap op de vuurpijl eindigt het festival het uiteenspattende KNARS!
De deur gaat op beide dagen om 19h00 open en de entree is op vrijdag gratis. Voor zaterdag betaal je 15 euro voor een kaartje aan de deur of online.
Ga voor meer informatie naar www.deschuit.nl of volg ons op Facebook en Instagram.